The entrance to your house is more than just a door, it's the focal point of your home. We take this to heart at Midwest Siding & Windows. We're proud to offer Polaris® entry doors. You'll find beauty, quality and energy-efficiency in the door system Polaris® makes especially for you.
THERMAL STEEL + FIBERGLASS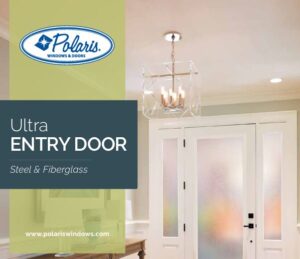 Polaris®decorative glass lites are hand assembled by craftsmen. Wavy textures, tiny bubbles and other natural effects of art glass all reflect light differently. The metal framework is filled with moving light. The result is a unique, quality work of art.
2.5″ R-13 polyurethane foam core meets environmental guidelines and offers maxiumum thermal protection.
Low-E thermally efficient glass upgrade is offered through the City Lites Collection. Invisible metallic coating blocks heat flow and shields against damaging ultra-violet rays.
Our compression weather-strip forms a weather-tight seal. The resilient foam is impervious to moisture and maintains its shape. We offer high-performance weather-strip and bottom sweep upgrades to further strengthen the weather barrier of your entry.
Internal Tilt Mini Blinds are child and pet safe and allergen free.
Products are put through rigorous at our in-factory testing facility. R&D ensures that our products are of top quality.