Side with visual attraction, not maintenance drama.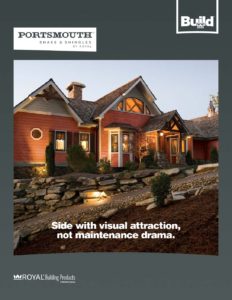 Elegant, quaint, heart-tugging, charming, down-to-earth:
our Portsmouth™ Shake & Shingles Siding is available in
every variety of curb appeal.
The best part: our dramatic color and style options carry
near-zero maintenance drama. Portsmouth doesn't
warp, buckle or sag, and comes with a Lifetime Limited Warranty.
• Never needs painting
• Designed to withstand hurricane-force winds up to 200 mph
• Manufactured from recyclable materials
When it comes to how your siding presents itself, color is crucial. So we pay
attention to what's trending and what works. Choosing your own colors can be fun,
but a bit overwhelming. If you need a nudge, get ideas and tips from our color
combination tool at RoyalBuildingProducts.com/RoyalColorCombos.