Timeless presence and effortless endurance from day one.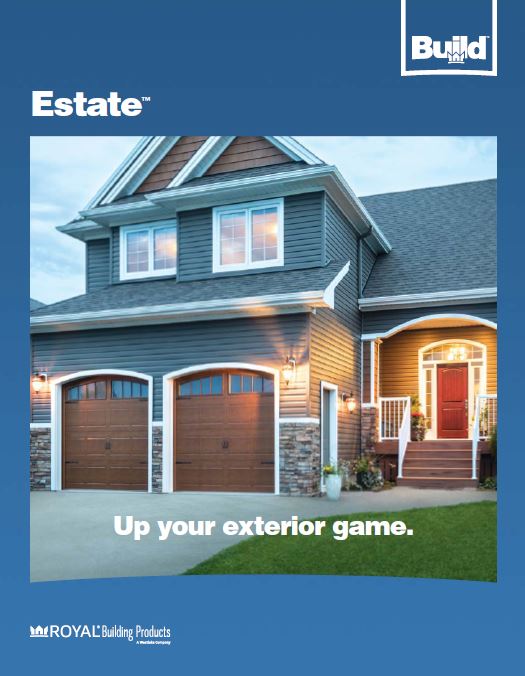 Estate™ Siding takes the gorgeous aura of real woodgrain, adds durability and subtracts maintenance hassle. Its teardrop lock design makes it the perfect foil for wear, tear, wind, rain and snow, year after year.
For homeowners with Estate, this is the virtually maintenance-free life: having siding that stands up to harsh weather and doesn't flake, chip, rot or sag. It's possessing timeless design without giving up your weekends.
• Never needs painting
• Designed to withstand hurricane-force winds up to 180 mph

• Surprisingly sustainable
• Industry-leading Double Lifetime Warranty
Choice is a beautiful thing.
Estate™ Siding comes in a selection of styles that vary by width and pattern: 4" and 4.5" project a traditional vibe, 5" makes for a clean, contemporary look and Colonial Beaded indulges your elegant side. All of our styles and profiles capture the look of natural wood.
And every one of them defies the effects of time and weather.
• Robust .044" thick panel
• Choice of D4, D45D, D5D profiles with a partial rollover hem
• Also available in a single-course, Colonial Beaded profile
• Gorgeous woodgrain captures the look of natural wood
A sustainable choice is even better.

Not only is Estate Siding available in a wide selection of colors and profiles, it's also remarkably green. Lightweight, yet durable, it never requires painting or staining. For Estate, sustainability is a lifestyle, not a fad. From production, which starts in facilities that recycle virtually all scrap materials, to manufacturing, transportation and installation (did we mention no hazardous materials are emitted when it's cut into?) it's a clear frontrunner in the cladding game.
• Manufactured from recyclable materials
• Rivals cedar in overall green performance
• 1/3 the environmental impact of fiber cement