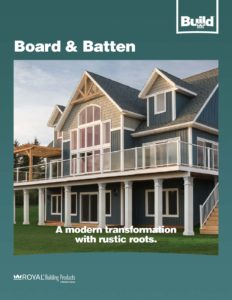 Siding moves in a handsome direction.
Our Board & Batten Siding has a vertical pattern that's warm, versatile and distinguished.
While it conveys a strong and clean rustic vibe as a main siding attraction, it's equally powerful as a contemporary accent. Rich color choices, strong durability and no-worry maintenance only add to its curb appeal and overall charm.
• Robust .046" panel, with Colorscapes®
Dark colors increased to .050" for advanced performance
• Distinctive, trending vertical profile
• Can withstand hurricane-force winds up to 170 mph
• Low-gloss finish that replicates the look of real cedar
• Classic, seamless appearance
A sustainable exterior presence.
Board & Batten Siding is as green as it is colorful and curb appealing. It's engineered to eliminate the need for painting or staining, and represents its environmental friendliness in many different ways—from production and manufacturing to transportation and installation. For example, virtually all scrap materials are recycled during production, and no hazardous materials are emitted when it's cut for installation.
• Manufactured from recyclable materials
• Rivals cedar in overall green performance
• 1/3 the environmental impact of fiber cement