UltraWeld PREMIUM VINYL PATIO DOORS COLLECTION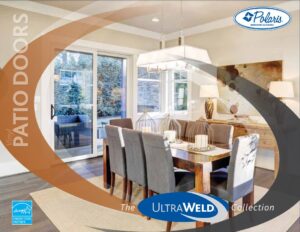 Polaris® vinyl compound retains its pristine appearance for a lifetime.
Fusion welding at door panel corners transforms for vinyl extrusions into a strong, one-piece door.
Sloped, aluminum-reinforced sill guides rainwater outside and away.
Our maintenance-free vinyl formulation maintains its color and smooth surface.
Smooth gliding, solid steel zinc-plated tandem rollers, with an Iridium coating on exposed parts to protect against corrosion.
Low-E film fixed between glass panes reduces ultra-violet light damage and heat gain. Argon filling in both air spaces resists temperature.
Our extruded aluminum screen frames are stronger than roll formed frames.
Products put through rigorous testing at our in-factory testing facility.  R&D ensures that our products are top quality.